Health Minister Mark Butler says he is working with his counterparts in the state and territory to reduce healthcare emissions, which contribute about 7 percent of Australia's national carbon footprint.
Asked during Question Time by independent MP for Mackellar Sophie Scamps to outline his plan for implementing a climate, health and wellbeing strategy, the minister told parliament that the impact of climate change on the country's health will be "major." ".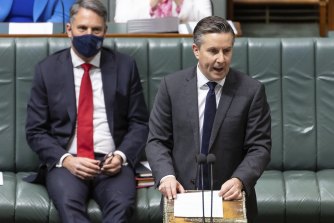 "Australia is lagging behind the rest of the world on climate and health after nine long years of denial and inactivity, [but] that will change under this administration," Butler said.
The Climate and Health Alliance is pushing for a national plan to decarbonise the country's healthcare system by 2035.
The minister said he had consulted his department on the implementation of the climate, health and well-being strategy and that he had started discussions with the health ministers of the state and territory on a joint plan to reduce emissions from the health sector. to decrease.
"In a continent that is already pushing us to the limits of human tolerance, heat-related deaths will increase," he said.
"The health effects are more frequent and more intense. Extreme weather events will increase significantly and the disease will begin to creep south.
"Dengue exposure, for example, is expected to increase as far south as Rockhampton by mid-century and as far south as northern NSW by the end of the century."
Butler noted that the World Health Organization has described climate change "as the greatest threat to public health in the 21st century", and estimates that 250,000 people per year will lose their lives "as a direct result of a warming planet" between 2030 and 2050.
"Good climate policy is good public health policy," he said.
"Renewable energy is not only good for the climate, it also removes dangerous particulate pollution from the atmosphere and improves public health, just like electric vehicles."
He pointed to the recent heat wave in Victoria, which caused "374 heat-related deaths, as well as a huge increase in calls to the ambulance service".