Thousands of First Nations people and non-Indigenous protesters marched through Melbourne on Friday, calling for Aboriginal land rights, lower incarceration rates and adjustments to Victoria's truth-telling process.
For some younger people it was their first Victorian Aboriginal Health Service march in Fitzroy through Melbourne's CBD as part of NAIDOC week, and for others it was a return of the rally after the pandemic canceled these two years.
The march stopped at key intersections for dancing and speeches, including Parliament House, the intersection of Bourke and Swanston streets and Flinders Street Station.
This NAIDOC week's theme, "get up, get up, show up," represents a change for Professor Henry Atkinson, a Woolithiga man, who recalls another era when he felt he was told to "shut up." because "no one would listen".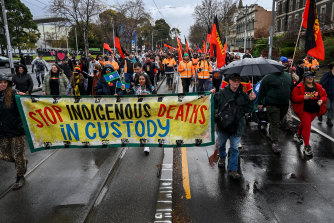 Atkinson, the Victorian NAIDOC senior for 2022, said there had been a change since Victoria's Yoorrook Justice Commission, but he called for it to go further and hear from non-Indigenous views too.
"Why tell the truth if we haven't perpetuated all the killings and land grabs, or the stealing of children, or the incarceration of the young generations?" said Atkinson.
"I don't see the truth coming from anyone except setting up arrangements to tell the truth."
Alister Thorpe, a man from Gunai, Yorta Yorta and Gunditjmara, who marched with son Willun, reflected on dancing in front of parliament during previous protests.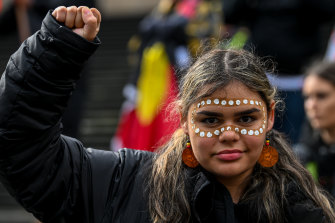 "We've been taken to these marches to fight for our rights since we were really born, and it's the legacy of our people, our past leaders who have," Alister said.
Willun said the support of non-Indigenous people gave this year's protest a different feel, while calling for "more rights, a property treaty and sovereignty" for Aboriginal people.
Latoya Baker, a Kalkadoon Kanju woman from northern Queensland, attended her sixth NAIDOC march since living in Melbourne and was relieved to be back after a two-year hiatus.
She called for action against high incarceration rates of First Nations people and improved support programs to prevent Aboriginal people from entering the justice system.
"There is a transgenerational trauma. A lot has happened to our mafia. Instead of locking them up and throwing away the key, you have to actually support them," Baker said.