lLet's hope the esteemed Brad Pitt doesn't give us his lead swan song with this bizarrely tiresome and overwhelmingly unfunny gonzo-violent action comedy set on a Japanese high-speed train from Tokyo to Kyoto – with the film's insanely hyperactive pace ramped up in tribute to the speed of the locomotive. This movie would be a horrible way for Pitt's performance career to hit the buffers and he gets lines like, "He follows me around like…something witty."
It's a semi-western-washed version of the 2010 bestselling novel by Japanese author Kotoro Isaka, and directed by David (Deadpool 2) Leitch, all about a bunch of crazy killers aboard the train, their murderous fate all chaotic in collide, and they all turn out to be more connected than they think.
With the whips and crash zooms, the sudden flashbacks, the voiceovers, stylized punch-ups, shootings and stabbings, and inter-titles introducing the wacky characters and geezercrims—two of whom are cockneys and serious West Ham fans—this is worrisome as anything from Guy Ritchie. (Although Brad Pitt's eccentric performance as a traveler in Ritchie's movie Snatch is better than anything here.)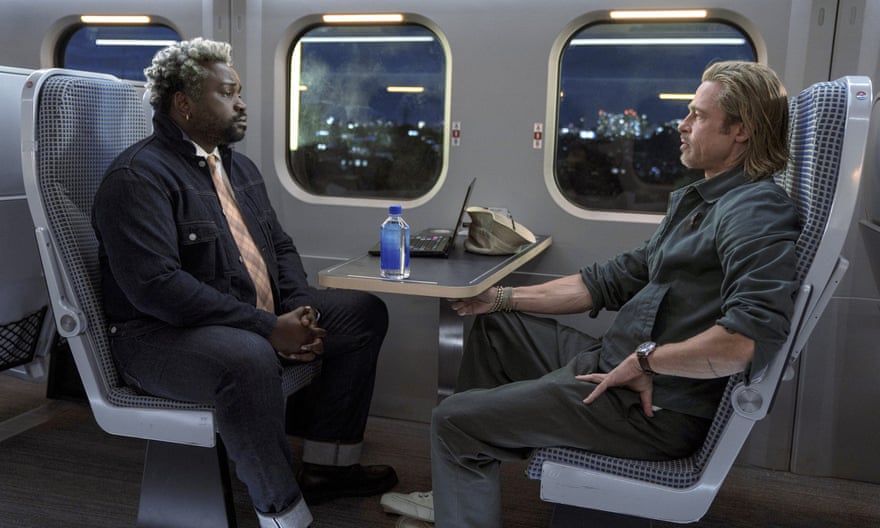 Pitt himself, sporting a silly hat, nerdy goggles and old-fashioned surfer gear, plays a laid-back hit man codenamed "Ladybug", whose handler (Sandra Bullock) gives him an easy task of getting him back into the game. help after a tumultuous series of disasters on previous missions.
All he has to do is grab a cash-filled suitcase from two other killers: Tangerine (Aaron Taylor-Johnson) and Lemon (Brian Tyree Henry) who have just rescued the son of a well-known mobster from kidnapping and this money. is the ransom they didn't have to pay. They both talk with the accents of pondshop Laarndaarn and Lemon has an obsession with, of all quirky-cool things, Thomas the Tank Engine – an elaborate but perfunctory touch of character that's about 47% as funny and well noticed as it needed to be.
Meanwhile, another bloodthirsty Briton is on board, codenamed the Prince: a psychopathic high school student played by Joey Prince, who has attempted to murder the baby boy of fellow passenger, Japanese assassin Kimura (Andrew Koji), and put a sinister hold on him. – but maybe but should consider Kimura's own father, known as the Elder, in which role veteran actor Hiroyuki Sanada comes closer than anyone else in the cast to be really cool.
There is another killer on the train called the Wolf (Benito A Martinez Ocasio) with a grudge against Ladybug, another called Hornet (Zazie Beetz) and towering over everyone in legendary wickedness is the White Death (Michael Shannon) waiting for it. platform in Kyoto.
It rattles vigorously through and through with unexciting and uninterestingly choreographed fights, cameos that briefly spark interest, and momentary non-lines where the funny stuff should have gone. Pitt's puppyish goodness keeps it from going completely flat, but he's nothing like the script and direction he got from Soderbergh or Tarantino or Fincher. And the Japanese setting is treated very cursorily; there are jokes about Japanese toilets that should have gone out in the 1980s. This is a tourist drive to nowhere.