There is a bizarre lack of clarity about a particularly crucial economic data point that affects every Australian.
We are all aware of the rising cost of living: gas bills, filling up at the gas station, food, transportation and housing.
Many of us don't need the statistical office's quarterly CPI or inflation statistics to know that prices are rising fast.
However, that only covers one side of the household budget. There is another side: income.
Many of us will be well aware of how much money goes into our bank accounts every week, two weeks, or a month, but what about everyone else?
There is a big difference when it comes to what we earn and officially we have no idea what it is like.
That suggests policymakers don't have a good idea — at least in hard dollars — about how well households are doing economically.
For some, that's not good enough, so they do it for themselves. What do I mean? Let me explain.
More clarity about wages
The last time we got an accurate picture of how fast our pay packages were rising was on May 18 of this year, with the ABS Wage Price Index. It has shown flat wage growth since the end of 2021.
The Reserve Bank has since suggested that the pace of wage growth, more broadly, is "picking up". This is based on his "connection program" and "company surveys".
The company surveys do not indicate an increase in wage growth.
And while its liaison program has hundreds of companies on its registry, including entities representing thousands of companies, it only contacted about 60 companies earlier this year to determine that it had seen "bigger" wage increases. Only some of those companies indicated that this was the case.
Several academics have since described the bank's method as not being statically valid.
We will get more clarity on the wage growth picture on August 17, when the ABS releases its June wage price index, which measures the pace of wage growth for the three months to June.
NAB don't wait
However, the National Australia Bank does not want to wait that long.
It says it needs to know – primarily to manage the risks in its business – to what extent its customers are struggling to make ends meet.
It has approximately 8 million customers, many of whom pay rent or maintain their mortgages. It is crucial that those customers have also deposited the wages into their bank account.
It is the most robust dataset of wage growth outside of what the Bureau of Statistics produces.
The NAB gets real-time data on whether its clients' wages are rising, falling or going sideways.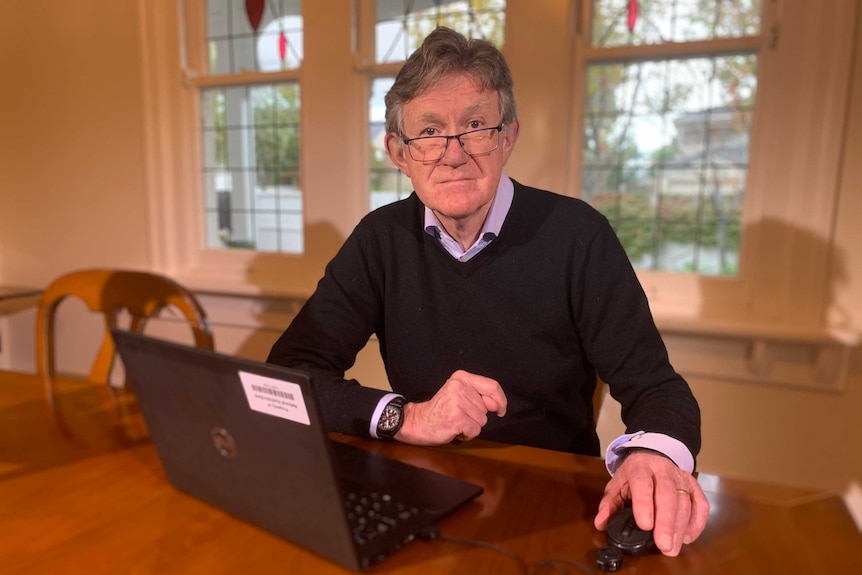 NAB's chief economist Alan Oster says the bank has had to be very careful about collecting payroll data.
For example, many Australians don't have a standing position that brings nice, tidy pay increases into their account. Others have two – or more – jobs.
It is the first time that the bank uses the data of its customers in this way. So it started with the deposit account data of about a million customers, and the computer models narrowed that down to 250,000 customers with clear, measurable wage or income deposits.
The results are remarkably consistent with the ABS results on wage growth.
That is, NAB's analysis shows wage growth was up 2.5 percent in the three months to June, 0.1 percent more than the ABS measure for the March quarter. In other words, wage growth is barely growing, he says.
This contradicts what the Reserve Bank reports.
Then there is inflation
If you didn't know much about inflation a few months ago, you probably do now.
It's rising, and the package of goods and services most affected by price increases includes the kinds of things we buy every day: gasoline, food, and drink — so it hurts a lot of people financially.
Earlier this year, inflation was still a fraction above 5 percent, according to the Statistical Office. Now that is a fraction above 6 percent.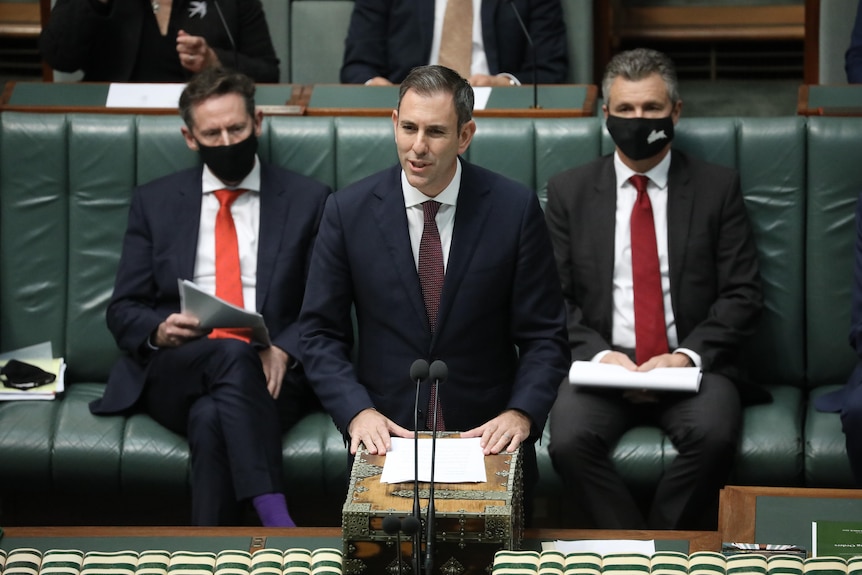 The Reserve Bank has indicated it could move north of 7 percent, while the treasurer has now confirmed it is expected to peak at 7.75 percent.
Why? It is clear that gas prices are rising, and the petrol tax will return in September.
The story so far has been that while wage growth is accelerating, it isn't rising fast enough — especially when compared to the pace of in-store price increases (inflation).
However, the reality is that wage growth in general is not increasing at all.
This means that real wage growth (wage growth as measured by inflation) is constantly falling.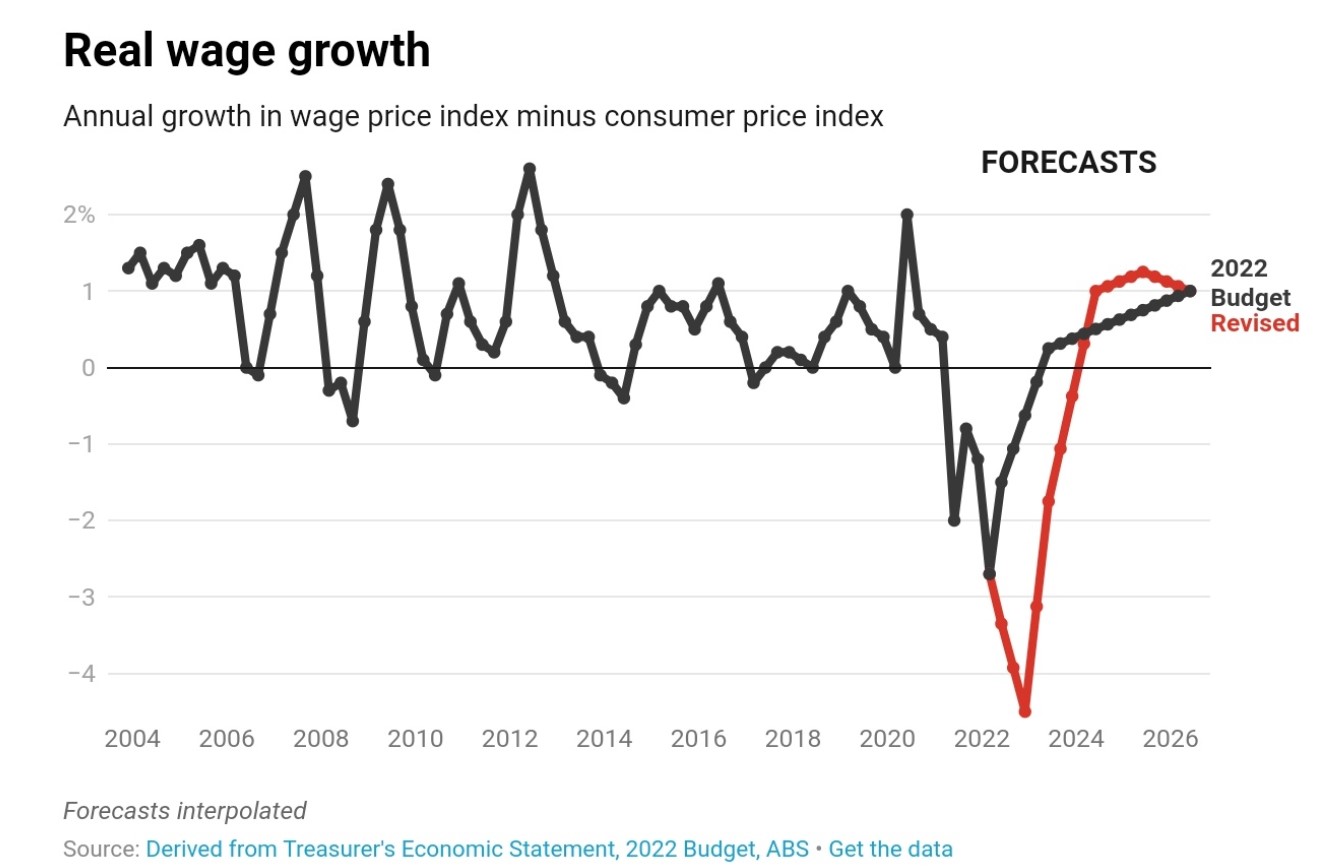 The chart above shows that Treasury believes that until at least the end of the year, households will continue to struggle with much more money leaving their budgets than coming in.
But have you noticed the miraculous rebound in wage growth for next year and the year after?
Curious about this, I contacted the treasurer to understand how the number crunchers came to this conclusion. The answer is that the Treasury's view of wage growth is shaped by what the Reserve Bank publishes.
And what about hard numbers about the future of inflation? How are they calculated?
I've put these questions to Jim Chalmers' office, but haven't gotten an answer yet — including how the 7.75 percent inflation rate was derived.
The treasurer's ministerial statement was long awaited and closely monitored by the media. But what exactly have we learned from it in terms of hard facts about the economy and the challenges we face?
No concrete idea
When formulating policy, it is crucial to deal with truth and facts. Any deviation from this will lead to incorrect policies or inappropriate solutions.
Today, the Reserve Bank will decide how high it will raise its target for the spot interest rate.
The decision will affect millions of mortgage borrowers and tenants and will have a flow-through effect on the economy in terms of demand and pace of economic growth.
At this point, there seems to be no official clarity as to how well Australians are actually placed to manage this change.
We know there's $260 billion in savings, but it's also clear that this isn't evenly distributed – another point we're not sure about.
At the same time, we know that while the Reserve Bank has instruments to fight inflation, its instruments will not solve much of the inflation problem – caused by factors beyond the control of the RBA.
It's a bit shocking when you realize that the data we work with to solve big problems is incomplete, and the tools we use to solve the problems we're not entirely sure about aren't entirely accurate either.
Perhaps it wouldn't be so shocking if, since we all work harder, based on the latest productivity data from the National Accounts, we all got a real increase in our wages or wages.
But it seems that's not happening.
Maybe it would be more helpful if the message was just "we know you're having a hard time" and "we're trying to find the solutions"?
It would certainly be more believable.